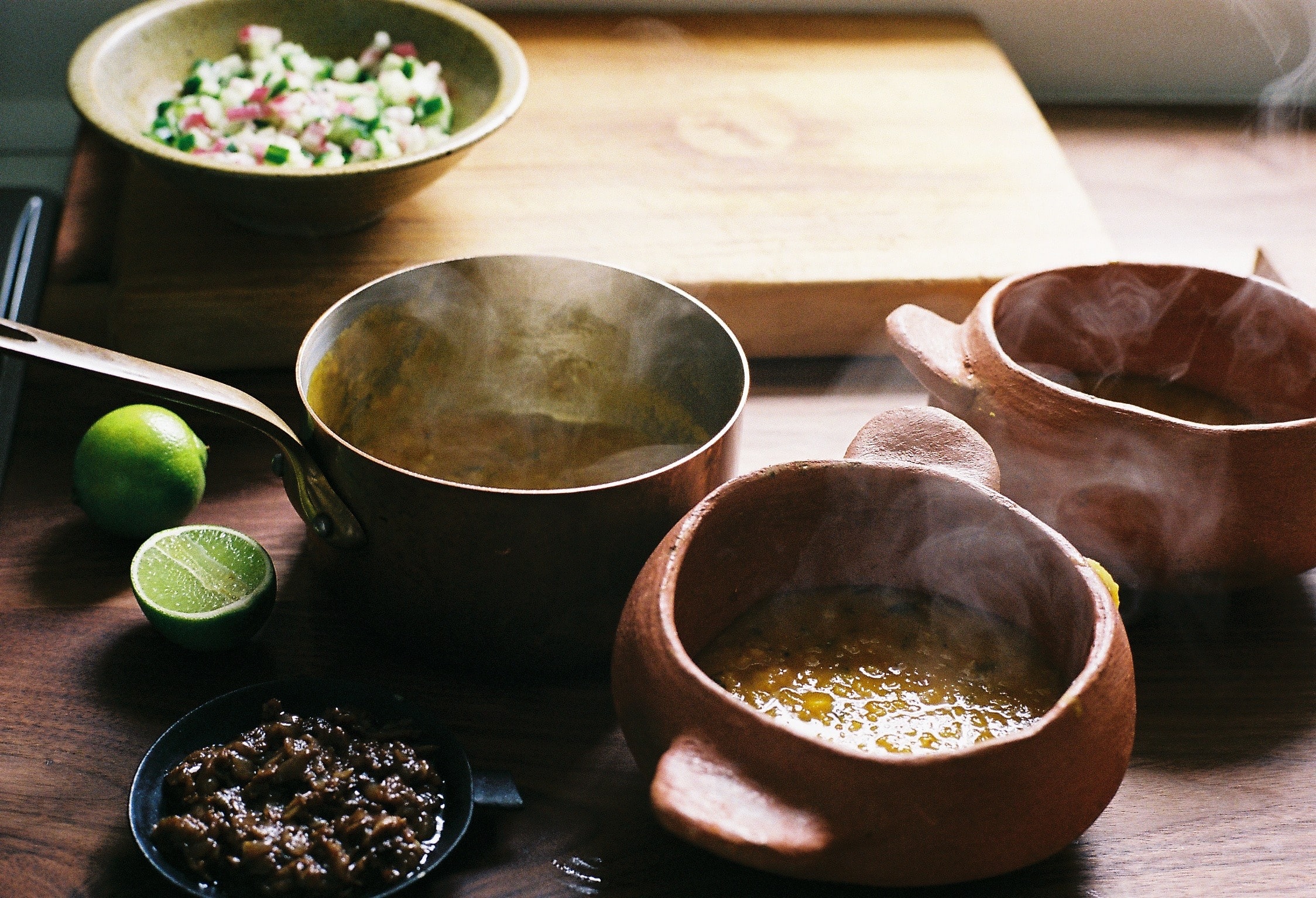 recipe: a nourishing dal
Our friends at Sans [ceuticals] share a recipe for a nourishing and warming Bangla Dal with a few tasty sides to enjoy alongside. This Dal is perfect for early days postpartum, when gentle, warm and filling foods are needed to restore and heal the body. Make a larger batch to store and reheat when needed. You can find the original recipe of 'The Buddhist Lunch' here. Enjoy xx Nb
Bangla Dal with a hint of lime
• 1 cup masoor dal, washed and drained
• 5 cups of hot water
• 1 tablespoon tamarind paste
• 4 tablespoons olive oil
• 1 ⁄ 2 teaspoon ground coriander
• 1 ⁄ 2 teaspoon ground cumin
• 1 ⁄ 2 teaspoon cayenne
• 2 teaspoons turmeric
• 3 cloves of garlic finely chopped
• 1 1 ⁄ 2 cups thinly sliced onions
• 1 ⁄ 2 teaspoon celtic salt
• 1 ⁄ 2 cup coriander sprigs
• Lime wedges


Seeni Sambol
The perfect condiment to any spicy dish.
• 1 ⁄ 4 cup of coconut oil
• 3 cups of thinly sliced red onions or shallots
• 1 ⁄ 4 cup minced garlic
• 2 tablespoons of minced ginger
• 8 fresh curry leaves
• 1 teaspoon chilli flakes
• 3 anchovies or 1 teaspoon ground bonito flakes
• 1 teaspoon ground cinnamon
• 1 /8 teaspoon ground cardamom
• 1 /8 teaspoon ground cloves
• 3 ⁄ 4 cup fresh coconut milk
• 1 ⁄ 2 teaspoon unrefined sugar
• 1 ⁄ 2 teaspoon salt
• 2 tablespoons fresh lime juice, or to taste


Quick cucumber salsa
• Finely chopped telegraph cucumber
• Finely chopped red onion
• Finely chopped coriander or mint
• Juice of half a lime


Method (Bangala Dal)
In a large saucepan, combine the dal and water and bring to the boil, then lower the heat to medium and simmer for twenty minutes, partially covered. Cook dal until completely soft and soupy (10 to 15 minutes). Set aside and keep warm. Heat the oil in a wok or heavy skillet over medium heat. Add the coriander seeds, cumin and cayenne and stir-fry until fragrant (about 15 seconds). Add turmeric, garlic, and onions and stir-fry until onions are soft and tender. Add tamarind paste to the dal along with the onion mixture and stir well. Add salt to taste. Serve with fresh coriander and lime wedges.


Method (Seeni Sambol)
Heat oil in a large saucepan over medium heat. Add the onions or shallots, garlic and ginger and cook, stirring until golden brown. Lower the heat. Add the curry leaves, dried chilli, fish, cinnamon, cardamom, cloves and coconut milk. Bring to a simmer for 30 minutes, stirring occasionally to make sure the sambol is not sticking. Remove from heat, add sugar, salt and lime juice, and stir well. Transfer to a food processor and process to a texture you like. Transfer to a jar and let cool. Seal lid tightly and store in the refrigerator as it will keep for a month or more.

Method (Cucumber Salsa)
Toss all above ingredients together and season with a dash of salt and pepper. Serve with flatbread and watercress and red onion salad.