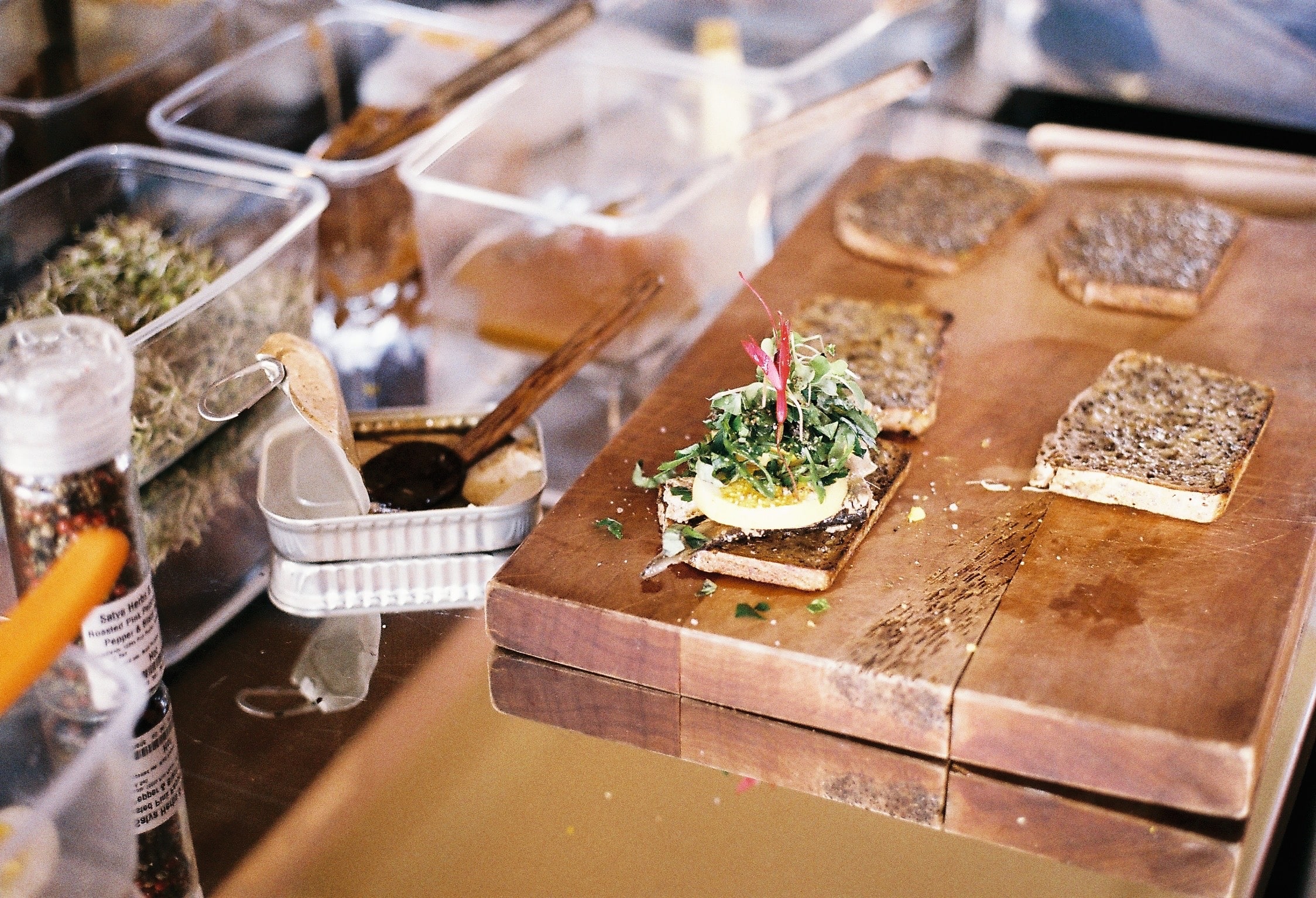 recipe: sardines on toast
sardines on toast with pickled egg and herbs
Carter Were shares a simple and tasty recipe for sardines on toast with pickled eggs and herbs, perfect to use up ingredients that keep well in your larder. Enjoy! xx Nb
I thought I would share a recipe from my old shop as it used to be across the road from the Nature Baby shop in Grey Lynn, where I met some of the people working for Nature Baby. This toast topping was popular at my shop and it's easy for me to put together with two babies! Pickled eggs will last up to a week in the fridge, so you can always make a few at a time. When I was pregnant I ate a lot of sardines and now I'm not, I still eat them a lot. It's a cheap and easy meal and is a good source of iron, calcium and omega 3's! I first tried sardines when I was 19 and in Greece, we ate them grilled with lemon olive oil. Although you can't find them fresh that often, canned ones can be nearly as tasty.
Pickled Eggs:
Hard-boiled eggs x 6
Cider vinegar 1 cup
Water 1 cup
Sugar ¼ cup
Salt ⅛ cup
Pickling Spice 1 tbsp
Beetroot ¼ one small
To hard-boil eggs, place the eggs in boiling water and boil for 9 minutes. Remove from the heat and rinse under cold water, until they are cool enough to touch. Peel and leave to cool completely before putting them in the pickle juice.
To make the pickle juice, place all the remaining ingredients in a pot, heat and stir until the sugar and salt have dissolved. Remove from the heat. The beetroot doesn't need to be peeled or chopped, just put a small chunk in the liquid. It will turn the eggs pink! If you don't have beetroot, a teaspoon of turmeric instead will turn them yellow.
Once the eggs are cool, place them in a container big enough to hold the 6 eggs and the pickle juice. Pour the pickle juice over the eggs and leave for a few hours (or overnight). You want the liquid to cover the eggs, if your container is too big, find a smaller one or put them in a jar. They will last up to a week in the fridge.
For the toast:
Bread 2 x slices
Sardines 1 can
Pickled Egg 1
Basil 1 tbsp chopped
Parsley 1 tbsp chopped
Spring Onion 1 tbsp chopped
Chives 1 tbsp chopped
Mint 1 tbsp chopped
Olive oil
Lemon Juice
Salt
Pepper
To make the toast, toast, and butter the bread. Place the sardines on top. Slice an egg finely and top the sardines with it. Lastly, chop all the herbs (you don't need all of these, but a mixture of some of these is nice), toss them in a small bowl and top your toast with them. Season with salt, pepper, olive oil and a squeeze of lemon juice.