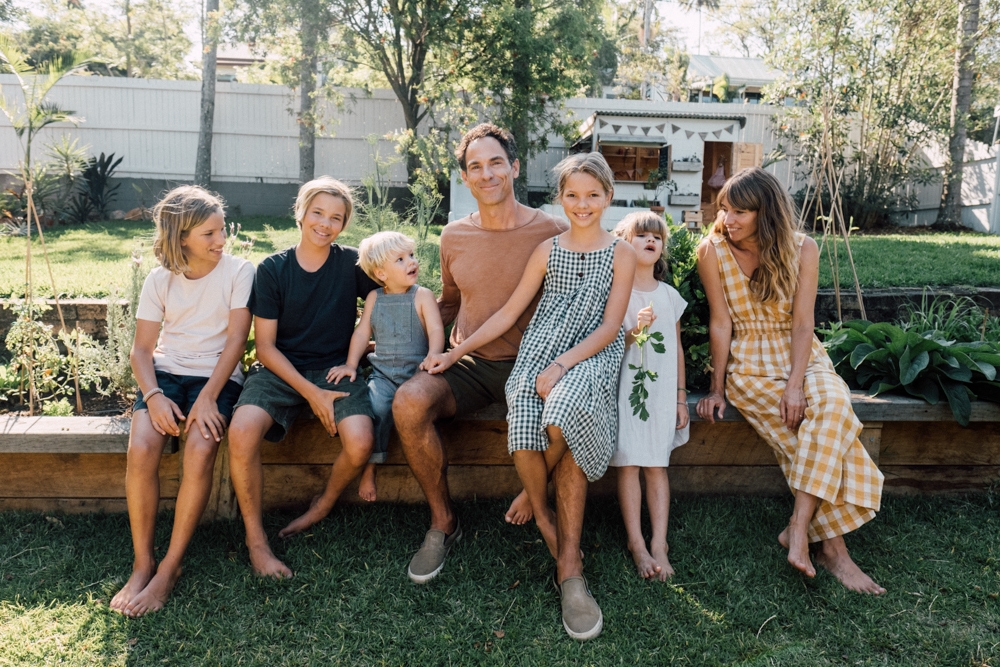 courtney Adamo
To celebrate our Autumn collection, our friend and mother-of-five Courtney Adamo shot her favourite pieces on son Wilkie at their beautiful Byron Bay home. We spoke to Courtney about family life in her little corner of the world, and she kindly shared some of her essentials for new motherhood and beyond.
@courtneyadamo
Tell us a little bit about yourself and your family…
I am a mother of five children ranging in age from 4 to 16 years old. I'm married to Michael, who is as hands-on with parenting as I am, and we live in a little town called Bangalow, just inland from Byron Bay. Michael and I both work from home, so we juggle the kids and work and home life, and for the most part it feels quite balanced, albeit chaotic. We moved here from London after taking a year off to travel around the world. Of all the places we visited on our travels, we fell in love with this specific corner of the world, and decided to move here in 2016. We spend most of our free time at the beach, as we are spoiled with beautiful beaches and perfect surfing waves year-round.

Where did you grow up, and what are the most vivid memories you have of your own childhood?
I grew up on a flower farm in the very northwest corner of America, just below Canada. We lived near the sea and surrounded by snow-capped mountains. We spent summers at the rocky beaches of the Puget Sound and winters skiing in the snow. We were quite isolated where we lived, so my four siblings and I spent a lot of time together and outside — being adventurous and making up our own games. I also rode horses growing up, so spent a lot of time out in our barn. It was a really idyllic, care-free childhood, rooted in family and fun.
Are there any rituals or traditions you've carried through to the way you parent your children?
I always joke that coming from a big, crazy family, the chaos in our home feels quite normal! I guess my upbringing prepared me in that sense. I am also really close with my siblings and my parents, and have always wanted to raise a close-knit family as well. We place a lot of value on time together as a family, and I love honouring some of the traditions and rituals from my own childhood as well as creating new ones for our family. From smaller things like pancakes on Saturdays to bigger things like birthday celebrations, these are the rituals that I hope will help define and shape memories for my children.
What was becoming a parent like for you? What helped you feel calm, supported and connected during those first few weeks and months?
Because I came from a big family and I spent my childhood helping my mum look after my younger siblings, I naively went into motherhood feeling I was prepared for it all. Of course I still had lots to learn (and am still learning now!), but I do think having that experience helped make me feel quite calm. I didn't read any of the trendy parenting books many others were reading, which again helped me tune into my own wisdom and intuition as a mother. I think we can so often be inundated with advice and recommendations, it's easy to forget to simply listen to ourselves and our babies and trust we know what's best for them.
What was the best piece of wisdom you've received or can give when it comes to parenting?
I just always think it's so good to remind yourself that every child is different, and every mother is different, and what works for someone else might not work for you, and that's okay. There is no one size fits all parenting method!
I even found I had to remind myself of this with each child we had — a parenting method that might have worked with an older child had to be adjusted with the next. We never had tantrums until we had our fifth baby, and then he came into our family to completely humble me as a mother and challenge all of my parenting strategies, and after the most challenging toddler phase with him, I no longer feel qualified to give parenting advice, as everything I thought I believed basically went out the window!
What are your favourite ways to spend time in nature as a family?
We are super lucky to live where we do and to be surrounded by nature in every direction. We all love to surf, so heading to the beach is a really easy way to make everyone in the family happy!

A day with…
I live… for sunny weekends with my family, perfect surf conditions, dinners with friends, movie nights with my husband, and FaceTime calls from my family overseas.
I'm reading… 'Bridge of Clay' by Markus Zusak, passed on to me from a friend.
I cook… breakfasts, and my husband cooks the other meals!
I'm listening to… currently I have 'Tracy Chapman Radio' playing on Spotify
My weekends... start with snuggles with kids and pancakes for breakfast!
One item I can't live without… our vacuum! It's a necessity in our house