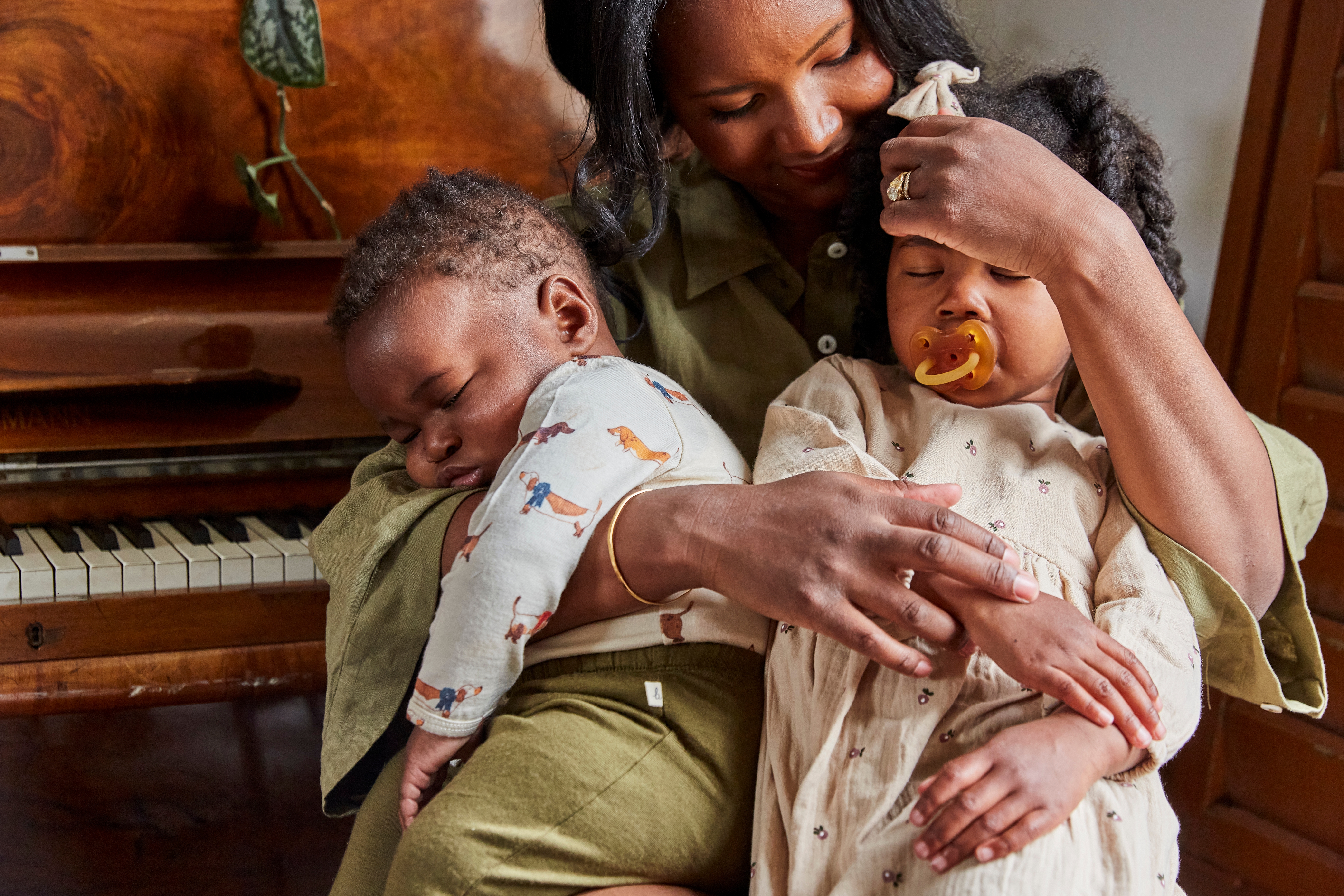 Africa Daley-Clarke
Africa Daley-Clarke is a mother to three beautiful children. She lives in an apartment in London with her husband J, where they've created a natural and nourishing home filled with earthy tones, lush plant life, and repurposed furniture and curios that tell a story all of their own. We spoke to Africa about the focus she gives to sustainable and natural fabrics, her lifelong love for second-hand, and motherhood in general.
@thevitamindproject
Tell us a little bit about yourself and your family…
My husband and I are approaching 10 years together, 6 married - we live in a small apartment in London with our children, two girls 5 and 3 and our son who is 9 months.
What was becoming a parent like for you?
Pre and post-natal depression robbed much if not all of my early parenthood with my firstborn - however, 2 years later when I gave birth to our second daughter - it was a really affirming experience that helped me gain closure on the first one. I took some time out to travel with my two eldest children when they were 6 weeks and 2 years old and this deep bonding experience - particularly with my eldest - helped me to go through that "becoming a parent" stage for what felt like the first time.
What helped you feel calm, supported and connected during those first few weeks and months?
With our second child, we took a lot of comfort in just being able to trust our own instincts this time. We were very conscious about who we allowed to "enter into our sphere" and I think that actually went a long way to protecting our peace and maintaining calm. It can be so easy to fall into the guilt trap of allowing everyone that wants to see the baby uninterrupted access whenever it suits them - but we really benefitted from reclaiming that time.
We love the focus you give to sustainable and natural fabrics; can you tell us a little more about why you value more natural choices for your family?
From a young age, it's always been drilled into me how important it is to invest in quality clothing over quantity. Both sets of parents and my grandma were both huge advocates for either buying second hand or buying new only if you knew the quality would stand the test of time - from my own experience - nothing cuts is quite like natural fibres.
I love the children to wear good quality cotton items, gauze fabrics, linens etc and those are the pieces that always last the longest and we're able to pass them onto the next sibling.
You also give focus to buying fewer, better, and to giving pre-loved quality clothes a new life through second hand use. This concept is so important to us, and we make our clothing with the expectation it'll be worn through multiple children. Can you tell us a little bit about your connection to second hand, we read that your Mum used to run a vintage store in Portobello Rd?
Yes, growing up, for several years my mum used to run a successful vintage stall on Portobello. She would sell vintage pieces like sheepskin jackets but would also upcycle vintage Levi's with handsewn embellishments (it was the early nineties and they were all the rage). I used to go with my mum most Saturday mornings -up at the crack of dawn and sometimes even sleeping over and she would always let me go and have a little wander around nearby stalls.
No doubt that's where my love of second hand items came from. I've been doing car boot sales since I was about 15 too. I used to catch the 31 bus from Camden Town station to Kilburn high road at 5am with two suitcases in tow and hire a rail and table once I got there. Walk ins were £15 and some weekends I'd make over £100. Both my eldest girls have sat through many great car boot sales with me over the years too.
Where did you grow up, and what are the most vivid memories you have of your own childhood?
I grew up about a 5 min walk from the home we live in now and so it's quite surreal to watch my eldest experience parts of life that I also vividly remember, within a similar neighbourhood. I tend to gloss over a lot of my childhood as I've worked hard to shake a lot of difficult memories, but some of the best times of my childhood were spent during long summers in West Yorkshire, where my grandma lives.
Are there any rituals or traditions you've carried through to the way you parent your children?
Growing up we didn't observe any rituals or traditions, but that's given us a wonderfully free base to what rituals we want to create for our own family. It also means there aren't really any cultural expectations on us to continue something with a long legacy and J and I have enjoyed a lot of trial and error over the last 5 years as we find our feet on what traditions are most important to us. 
What are your favourite ways to spend time in nature as a family?
My husband and I are really big believers in encouraging free play. So, we like to be "prepared" for all eventualities (rarely pack light) but then for us, the best days out in nature are when we let the children dictate their own play. That could be going on a search and retrieve "mission" for logs/shells/treasures... A favourite that tires them out, gives them freedom and allows them to be intrigued... and later as a family we will come together to build/discuss what it is the girls have found and prompt a new game with our findings.
 Image credits:
Styling: Africa Daley-Clarke @thevitamindproject
Photography: Kasia Fiszer @kfiszerfoto