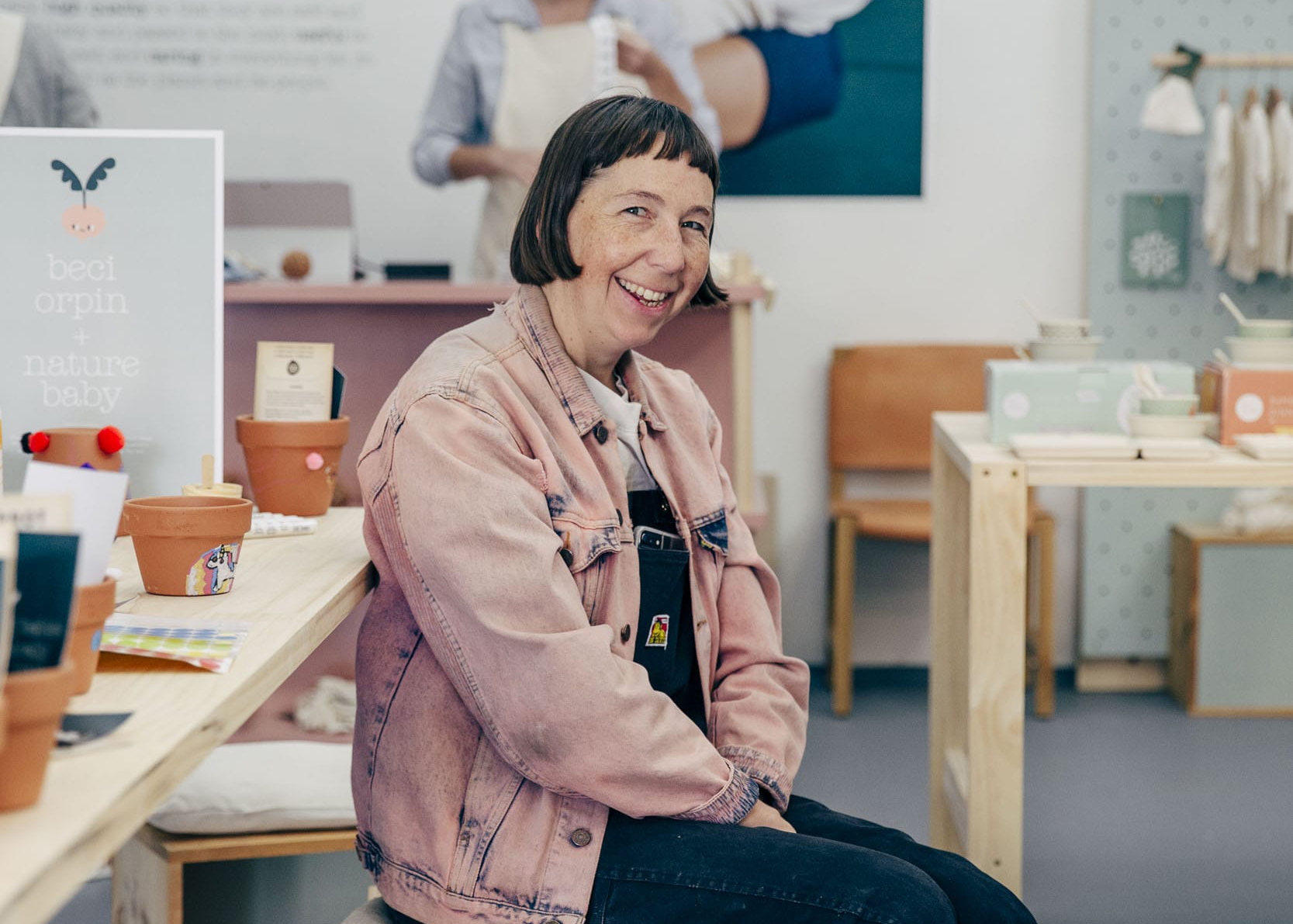 motherhood: beci orpin
We chatted to our friend, illustrator & artist Beci Orpin, about navigating her busy life as mum of two boys in Melbourne, Australia. She shares ideas surrounding her creativity and the inspiration behind our collaboration print (available at our Melbourne pop up, online in Australia, and coming to the rest of the world soon!).
My family is...
myself, my husband Raph, my two sons Tyke (almost 15) and Ari (10yrs) and our cat Tio.
My husband Raph is the number one entertainer in our family. He has us in stitches daily with his stupid antics. He is the total opposite at work so people often don't believe us! Our lives are often kinda crazy – especially with Raph working hospitality hours, and the kids getting older and having their own agendas, so we always have dinner together every night, and try to spend every Sunday as 'family day'. Making sure we have times when we are all together, even if we are just hanging out at home, is really important.
I am born and bred...
in Melbourne, apart from first my very early years were my parents drove north to live a nomadic life. Once we returned, I grew up in the leafy east, with visits to my dads house in the south on the weekends. I currently live and work in Brusnwick, which is in the inner North of Melbourne. Brunswick is a pretty great suburb – it has a good mix of excellent food and lots of creative people, without being too gentrified.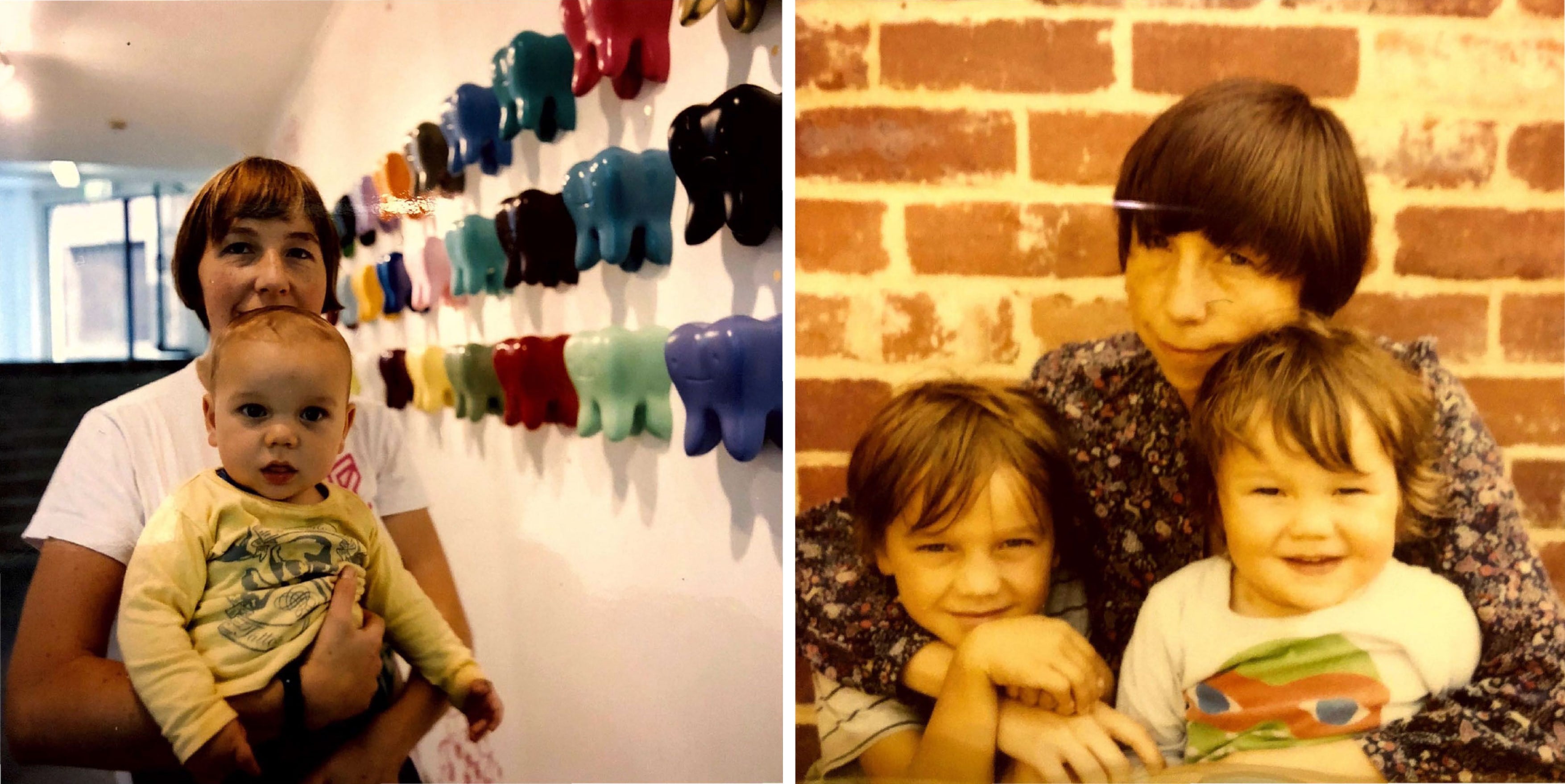 Since becoming a parent...
I think the fact that my time was no longer my own was a really tricky thing to deal with. Running my own business I was so used to doing what I wanted when I wanted, but that all changed pretty quickly once Tyke arrived. My working hours were dictated by when my babies were sleeping, or later when they were in care. But this also taught me how to work really efficiently. I can get so much done in a short period of time now.
Don't set too many rules or expectations for yourself or your baby. Flexibility is the key!
The best and worst things about Melbourne...
Melbourne has a great creative community who turn out in droves to support independant events like art shows, markets etc. That's a pretty special thing. Being surrounded by talented and like-minded people who will support your work and make their own work is inspiring.
We are super into food and Melbourne food and restaurant scene is deep and never-ending! It's the best! Melbourne also has crazy weather but also 4 distinct seasons which I love, and good nature of all different kinds (beach, mountians, rainforest, desert) less than hours drive away. I try and utalitse that often.
Melbourne has everything we need to bring up a healthy, cultured, educated, safe, well-fed family. We really are very lucky. I do wish there was more support for childcare and maternity and paternity leave from the government.
More and more, for me there is no definition between life and work...
because it is all one big thing we are just doing, and that's exactly how I like it. As both Raph and I run our own business, it often means we work crazy hours, but it also means we have the flexibility to cut out early to pick Ari up from school or go on impromptu holidays together. That's the balance for us. For my wellbeing I ride my bike and walk as much as I can – its my meditation. I also have a PT and a boxing coach – the physical aspect is really important (and fun!)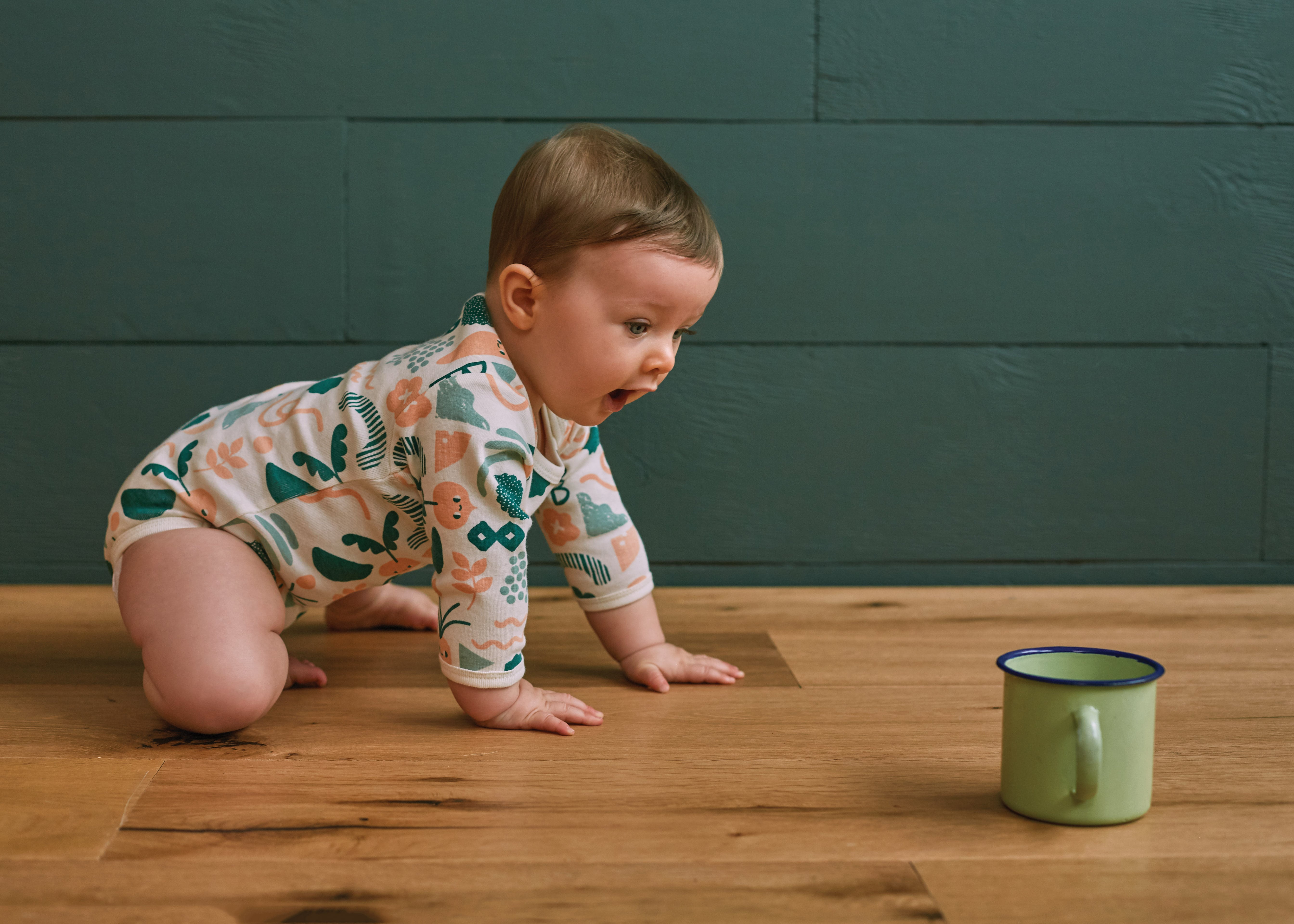 Some words on fostering creativity for yourself and your children...
Run your own race - don't waste energy comparing yourself to others. I think not being too prescribed with how they (children) spend their time – things like free-play and giving them relative independence supports kids making their own discoveries. That's partly how they develop creative thinking.
The inspiration behind the Nature Baby collaboration, petit végé...
Veggies and back-to-nature combined with my favourite shapes
A day in the life...
I live… in Brunswick
I am currently reading… Sour Heart by Jenny Zhang
I often find myself cooking… anything from Julia Ostro or Anna Jones
I'm listening to… new Cardi B album
My weekends start with… a sleep-in hopefully followed by cherry danish
One item I can't live without is… my paper diary and sketchbook


Thank you for sharing with us Beci! We have loved being in your city for our pop up store, so much fun. Nb x