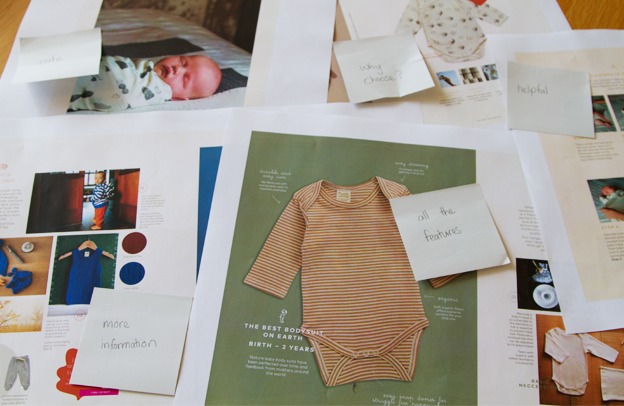 creating the guide for your baby essentials
At Nature Baby we want to make the exciting and life changing process of becoming a parent as easy as possible. With this in mind we have been working hard to create the ultimate catalogue, more like a hand book for new parents, full of useful products and information to help your family along the journey.
Our new catalogue is divided into sections like our website- Clothing , Sleep, Care, Food & Feeding, Mum, Giving and of course Kid Nature.
Within these sections you will see all our gorgeous new product and find helpful information. We have tried to answer your questions and give detailed explanations about our products so you can make informed decisions. To make this information useful and shopping easy we have added lists of what you will need for baby, sometimes these lists can be long and overwhelming but we have stuck to only the essentials for you and baby. We have also created a step by step guide to swaddling baby, recipes for pregnant mums and babies who are starting solids and lots more helpful features.
We are in the final stages and can't wait to send off to the printers so we can share the finished product with you. nb x
(If you would like to receive one of our new Winter 15 Nature Baby catalogues please email info@naturebaby.co.nz with your address and we can pop one in the post for you!)